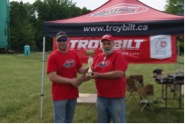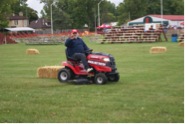 The Western Ontario Outlaws Lawnmower Racing Club was founded in 2007 by Garry Kerr
Elected Officers Board of Directors

President – Corey LaPointe Wayne Freer
Vice President – Wayne Freer Corey LaPointe
Treasurer – Joan LaPointe Ryan Kerr
Secretary/Media – Rylee Kerr
Race Director – Carl Askin
Grounds Supervisor – Dean Burns
Technical Director – Ryan Kerr
Lawnmower racing is a fun, family friendly event and alcohol-free. Our club has racers ages 5 to 75, both male and female. We are a non-profit club that donates annually to charity.
Lawnmower racing is popular in the U.S. but the sport is catching on in Canada. There's no prize money in the sport, called the "poor man's NASCAR," and machines can reach 100 km/h with engines having from 8 to 90 horsepower and cost from $500 to $5,000 to build depending on the racing class.
We now have a home track at 4120 Oil Heritage Line in Petrolia, Ontario. Races are held every other Saturday from the end of May to October 1st at 2:00 p.m. as well as at local fairs and festivals. See our race schedule for more details. Track admission is $5.00/person, kids 10 and under free.